4th Annual Asia Hazardous Waste Treatment Congress 2019 Event Background
Global Hazardous Waste Management market is expected to reach $48.06 billion by 2027, growing at a CAGR of 6.04% during the forecast period
The Asia-Pacific hazardous waste management market is expected to register the highest growth over the forecast period of 2019-2027 by exhibiting a CAGR of 6.52% over the forecast period of 2019-2027. From Jan 18-19, 2019, the National Eco-environmental Protection Conference was held in Beijing.The meeting pointed out the county must crack down on serious illegal activities of solid waste and hazardous waste in this year, carry out pilot projects for the construction of ¡°zero waste cities¡± and pollution prevention actions for waste lead-acid batteries,accelerate the local hazardous waste centralized disposal facilities building.On June 27,The Ministry of Ecology and Environment said that preparations for the second round of the Central Ecological Environmental Protection Inspection have been ready basically, and a new round of inspection will be launched in the near future. In late January 2019, the State Council's General Office issued the "Pilot Work Program for the Construction of Zero Waste Cities" pointing out that summarizing the experience and practices by deepening the comprehensive management reform of solid waste in pilot cities, forming a batch of copies that can be replicated and promoted zero waste city construction demonstration mode , laying a good foundation for promoting the construction of ¡°zero waste society¡±.Integrate hazardous waste collection and harmless disposal facilities into urban infrastructure and public facilities, ensure the land use of facilities, improve risk prevention and control capabilities,? strengthen comprehensive safety hazardous wastes control clearly. On May 31, 2019, the Ministry of Ecology and Environment reviewed and approved the "Hazardous Waste Landfill Pollution Control Standards" in principle.This revision has focused on the technical requirements for the selection of hazardous waste landfill site, the entry criteria for hazardous waste landfills, the wastewater discharge control requirements for hazardous waste landfills, the operation and monitoring of hazardous waste landfills technical requirements. It is? significant to promote the hazardous waste lean management,source reduction,resource utilization and incineration disposal. On November 9, 2018, the General Office of the Jiangsu Province Government issued the ¡°Jiangsu Province Hazardous Waste Centralized Disposal Facilities Construction Plan¡±, clarifying that the centralized disposal capacity of industrial hazardous waste will reach more than 1.8 million tons in 2020,strengthen the hazardous waste pollution prevention and control of in the whole province comprehensively. Crack down on illegal activities such as illegal transfer, dumping, landfill, etc. severely,and prevent environmental risks effectively.The plan defines six aspects clearly: overall planning and accelerate construction of centralized disposal facilities, focused on strengthening the safe disposal of prominent categories waste,promoted the co-processing through existing industrial kilns vigorously, improve the scale and management level of disposal facilities continuously,strengthen the construction of supervision systems comprehensively, and carry out pilot reform of hazardous waste collection. On April 27, 2018,Guangdong Province Environmental Protection Department issued the "Notice of the Guangdong Provincel Environmental Protection Department on Issuing the Three-year (2018-2020)Action Plan for the Prevention and Control of Solid Waste Pollution": By 2020, the safe disposal rate of industrial hazardous waste and medical waste in the whole province will reach more than 99%, accelerate the construction of hazardous waste disposal facilities.Guangdong has a large economic aggregate, dense population, and a large number of enterprises. Therefore, the solid waste generated is especially high in hazardous waste. At present, the structural imbalance of solid waste disposal capacity in the province is obvious. The province's incineration and landfill hazardous wastes disposal capacity gaps are as high as 150,000 tons/year and 100,000 tons/year, respectively.
On August 6, 2018, the General Office of the Shandong Province People's Government issued the "Shandong Province Operational Plan for Hazardous Waste Control and Struggle(2018-2020)". By 2020, the province will establish a relatively complete system for the hazardous waste collection, storage, transportation, utilization and disposal. The layout of hazardous waste disposal facilities tends to be reasonable,and the disposal capacity is basically matched with the types and quantities of hazardous wastes. The medical wastes from all types of medical and health institutions are all included in centralized disposal,realize the hazardous wastes and medical wastes safe disposal in the province basically.The hazardous wastes standardized management level and environmental supervision capability will be improved significantly. The qualified? hazardous wastes rate of sampling inspection of standardized management? in 2018, 2019 and 2020 is not less than 85%, 87% and 90%.With the rapid development of industrialization and urbanization, the problem of inadequate disposal capacity of hazardous wastes in Shandong Province has become a prominent shortcoming in the work of ecological environment protection.

On October 30, 2018, the Shanxi Development and Reform Commission, the Provincial Finance Department and the Provincial Housing and Construction Department jointly issued the Notice on Complete the Charging Mechanism for Solid Waste Disposal.Among them, according to the charge mechanism of hazardous waste, the "Notice" clarifies that the Shanxi Province hazardous waste disposal charges have been liberalized to implement market adjustment prices. The "Notice" requires that the competent authorities of the industry should actively cultivate and strengthen the market entities of hazardous waste disposal institutions and promote market competition. Guide market entities to scientifically formulate charging standards in accordance with the principle of compensating for the cost of collecting, transporting, storing and disposing of hazardous wastes and making them profitable. Sichuan Environmental Protection Department predicts that the total amount of industrial hazardous waste will reach about 4 million tons in 2022, and the hazardous waste disposal capacity will be challenged more severely. In view of the problems existing in hazardous waste management, Sichuan Province will accelerate the hazardous waste centralized disposal facility building in the future,strive to? reverse the shortage of hazardous waste disposal capacity completely by 2022. On November 15, 2018, Chongqing Eco-environment Bureau issued the "Chongqing Hazardous Waste Centralized Disposal Facility Construction Layout Plan(2018-2022)", which proposed that the demand and capacity of hazardous waste disposal in the city should be basically matched in 2020. Before the end of 2022, culture a batch of national hazardous waste utilization to dispose of quality demonstration enterprises.On November 19, 2018, Sichuan and Chongqing strengthened the joint supervision of the transfer for hazardous wastes across provinces and cities, promoted the hazardous wastes safe and timely disposal, and jointly signed the agreement on Transfer of Dangerous Wastes across Provinces and Cities.started in-depth cooperation in the field of hazardous waste disposal. Jiangxi Province has taken many measures to strengthen the prevention and control of solid waste pollution, including strengthening the utilization and disposal capacity of hazardous wastes, constructing regional hazardous waste disposal centers with reasonable layout, and promoting the hazardous wastes co-processing in cement kilns, and striving for the province's hazardous waste disposal capacity reach 300,000 tons per year by the end of 2020, which basically meets the needs of the province's hazardous waste disposal. In all of this hazardous wastes remain one of the biggest problems in India. A recent joint study by The Associated Chambers of Commerce of India (ASSOCHAM) and PricewaterhouseCoopers (PwC) shows that hazardous wastes in India are mounting at a rate of 2 to 5 per cent per year, a sharp and concerning surge.
The study also states that approximately 10 to 15 per cent of industrial waste in India is hazardous.The Ministry of Environment, Forest and Climate Change defines hazardous waste as any waste which due to its physical, chemical or biological composition is likely to harm health or environment. Various industries in India such as petrochemicals, pharmaceuticals, chemicals, fertilisers and general engineering produce hazardous wastes in considerable quantities.
Though waste as a whole is a problematic chapter for India, hazardous waste in particular is an area of concern. In February 2017, the Supreme Court pulled up the Union Government for intake of waste from other countries for re-processing and recycling and allowing it to be dumped in India¡¯s landfills, compromising citizens¡¯ health and the environment. Earlier, following the revamped Hazardous and Other Wastes (Management and Transboundary Movement) Rules, 2016, India had banned the import of solid plastic waste, edible fats, animal oils and household waste so that these items are not imported and add to India¡¯s already existing waste woes.
The revamped laws of 2016 clearly state that owners of hazardous waste disposal facilities are liable to pay financial penalties if the rules of transportation, storage and recycling of such waste are not complied with, and may even be imprisoned due to negligence. The rules also specifically direct the state governments to identify spots for construction of waste treatment plants specifically to treat hazardous waste. But till now, no new waste treatment plant with regard to hazardous waste treatment has been built since the new rules came into effect. Only 17 disposal facilities with both secured landfills and scientific incinerators exist in India. Many states like Karnataka, Kerala, Punjab and Orissa don¡¯t have such a disposal mechanism for hazardous waste.
The absence of proper infrastructure for scientific disposal and recycling of hazardous waste has resulted in poor handling of such waste in India. Burning of hazardous waste at landfills is still one of the most common and primitive methods of disposing, resulting in immense harm for health and environment. Collection and transportation of hazardous waste is often akin to dry or wet waste, resulting in further problems in segregating and recycling hazardous waste. Absence of incineration infrastructure in India is also a contributing problem, as most waste collectors are habituated to burning waste in uncontrollable temperature. Waste collectors collecting hazardous waste are mostly ill-equipped, untrained and poorly paid.
With the banning on import of solid plastic waste India has already taken a positive step to ensure that no hazardous waste lands up on its shores from foreign countries. The revamped Hazardous Waste Management Rules of 2016 has set guidelines to ensure prevention, minimisation, recycling and safe disposal of hazardous waste. The rules also require State governments to allocate lands for recycling sheds for hazardous waste, ensure proper registration, skill development, equipment supply and payment for workers engaged in the collection of hazardous waste, and for setting up of monitoring agencies to check the production and recycling of hazardous waste from each state. In Malaysia,A National Scheduled Toxic Waste Management Committee is to be established by the government to draft standard operating procedures for chemical pollution disasters,the scope and duties of the new committee were being drafted before being proposed to the energy, science, technology, environment and climate change ministry for approval.Among the committee¡¯s functions will be to decide on any issues related to toxic waste management in the future. Recently, chemicals dumped into the Sungai Kim Kim in Pasir Gudang, Johor, caused respiratory problems for nearly 6,000 people, including schoolchildren, many of whom had to be admitted after suffering breathing difficulties.
Vietnam strives to effectively manage solid waste
Indonesia needs to build four Treatment Centrals for 229,907 tons per year produced hazardous waste.

Previous Event Onsite Photo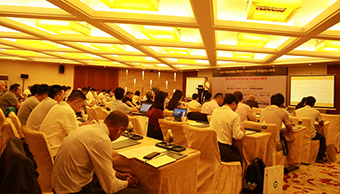 Key Features

Gain latest information on policies across the country,regulatory measures
HW control measures and updated treatment situation in various locations
Safe hazardous waste warehouses management,emergency response management
Compliance treatment HW generated by companies,corporate social responsibility
Build higher industry quality standards, implementing these quality standards
Various industries hazardous wastes treatment status and market demand?
How to get new HW project approval quickly
How to design and build excellent,bankable hazardous waste disposal projects
Find the proper m&a target,investor, economic policy and legal risk
Hazardous waste projects operational excellence management
How to improve the transparency of HW project operation management
Precautions for the construction of cement kiln co-processing retrofitting
Domestic and international state-of-the-art HW technology showcase
Debate challenge and opportunities with investors,funders and advisors
Debate the future of the emerging hazardous waste market with industry
Leaders
Take part in robust discussions and share best-practice with senior-level
opinion-formers
Network and do business with the leading hazardous waste treatment projects owners in the region
Discover new commercial opportunities in 2020 and beyond